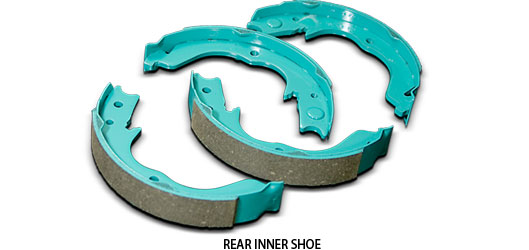 Designed exclusively for rear-brake use, D1 spec brakes are ideal for drifting maneuvers.
車検対応品
リア専用タイプ
ラジアルタイヤ
スーパーグラファイトメタリック
競技車両専用
インチアップ対応
■REAR INNER SHOE
| | |
| --- | --- |
| 材質 | Super graphite metallic |
| 温度域 | 50〜450℃ |
| | |
| --- | --- |
| REAR INNER SHOE | ¥23,000 |
| IS103 | ¥25,000 |
※:Settings and prices differ depending on the product number.Settings and prices are listed by product number at our website (www.project-mu.co.jp) for your convenience.

REAR INNER SHOE
★Price up
CAR MODEL
PARTS No.
ALTEZZA
SXE10
IS100A
MARKII・CHASER
CRESTA
JZX81/90/100
IS100B
JZX90/100(JZA80 Rear 2pot Rotor流用車)
IS103★
JZX110
IS100A
SUPRA / ARISTO
JZA70/80, JZS160/161
IS100A
SOARER
GZ20,JZZ30
IS100A
86
ZN6
IS102
CEFIRO
A31
IS200A
LAUREL
C33/34
IS200A
SKYLINE
R32/33/34
IS200A
SKYLINE COUPE
V35
IS200B
SKYLINE GT-R
BNR32,BCNR33,BNR34
IS200A
FAIRLADY Z
Z32
IS200A
Z33/34
IS200B
BRZ
ZC6
IS902
Product specifications, prices, manufacture and sales are subject to change or termination without notice.

TYPE NS pads offer a well-balanced improvement over the performance of genuine brake pads while reducing dust and noise.

Designed specially for around-town driving, K-STREET pads and shoes remove those nagging doubts about lack of grip.

This affordable model boasts dependable braking and improved anti-fading performance to cope with all sport-driving scenarios.