This high-performance brake hose has a unique three-tiered structure that allows for accurate brake touch, accurate control.
Material
Teflon hose, Stainless mesh hose, PVC tube
Joint:Steel, Stainless
Hose color
Green, Clear, Smoke
Steel
¥20,900
(¥19,000 Excluding tax)~
Stainless
¥26,400
(¥24,000 Excluding tax)~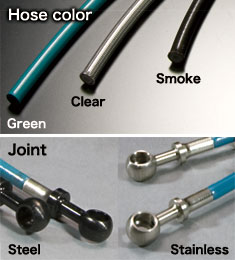 ※:Settings and prices differ depending on the product number. Settings and prices are listed by product number at our website (www.project-mu.co.jp) for your convenience.

※These products are designed based on normal cars. Please note that it causes damage when you have changed height, suspensions, tires, wheels, alignment, etc.
Product specifications, prices, manufacture and sales are subject to change or termination without notice.